Divemasters Blog
Sonar Victory for Whales
The National Resources Defense Council (NRDC) and the U.S. Navy reached a federal court agreement that impacts us all here in California. The settlement deal, among other things will cause the navy to silence its sonar in areas around Southern California during certain periods of the year when marine mammal populations are most vulnerable. The agreement runs until the end of 2018 when the U.S. National Marine Fisheries Service is scheduled to review the environmental impacts regarding military exercises in sensitive waters.
A well-defined area off the California coast between San Diego and Orange County, for instance, will be off-limits to sonar and explosives testing during the months-long summer migration of blue whales, the largest animal on earth. And the navy says it will no longer conduct training and testing in large portions of its most frequently used area west of San Clemente.
Intense sound waves can have direct physiological impacts on whales, including internal hemorrhaging and ruptured lung tissue. Sudden loud blasts not only lead to whales fleeing from their natural foraging and breeding grounds but can also make them rocket toward the surface, causing them to suffer the "bends".
The U.S. Navy doesn't deny the evidence linking its training exercises to whale deaths but for many years, it has refused to avoid sonar-based exercises at certain times and in defined places where marine mammals forage, breed, and migrate.
Awesome O'Neill Products at Eco Dive Center
O'Neill, the original California surf, snow and youth lifestyle brand, was founded in 1952 when a young man named Jack O'Neill took his unstoppable passion for surfing and used it to beat Mother Nature at her own game. Pioneering the first neoprene surfing wetsuit, Jack had successfully found a way to extend his surf sessions in the bone-chilling breaks of Northern California. He opened up the garage doors to his first surf shop in Santa Cruz soon after.


It's SHARK NIGHT with the famous Stefanie of Shark Allies on November 3rd at 7pm
Bio: Stefanie has many years of experience in Underwater photo and video production. For many years she focused on adventure sports and traveling and spent a big portion of her time in the ocean. She has hundreds of hours of diving with shark of all shapes and sizes, and has been working in Ocean related professions for years - one of them being a shark diving operation in Hawaii called Hawaii Shark Encounters, which she owned and operated with Jimmy Hall since 2002, and which she sold on to new owners in 2014. In recent years her political work has put Stefanie on the forefront of shark conservation, in particular in the Pacificregion. She was a driving force behind the first shark fin trade ban in the Nation in Hawaii in 2010 and has since then dedicated her life to the conservation of sharks. Stefanie has worked as a team member or consultant for several other great NGOs and founded Shark Allies in 2007 in Hawaii. 2014 she brought the organization to California. She is also the Executive Producer and cast member of "Extinction Soup", a documentary film about sharks and the major threats they are facing.
Raffle Prizes: UW Wrist Compass, Beach Mat, Diver Towel, Boat ticket to Catalina
Food: Turkey Chili Bowl with Toppings, BYOB

Why Full-Face Dive Masks?
Instead of asking why you should dive with a full face mask (FFM), maybe you should ask yourself, "Why not?" If you've never used one before, you may be unaware of the features and benefits a FFM provides.

Whether you've been diving for years or just earned your C-card, common goals unite all divers - safety, comfort, and of course, adventure, just to name a few. You depend upon your dive gear to help you reach these goals each time you dive. A FFM could be just the piece of gear you need to enhance your future diving adventures.
Professionals use FFMs because they offer extra protection when diving in extreme conditions, and until recently FFMs were only available to these divers. However, user-friendly design and affordable prices have made FFMs accessible for all divers. Today, lack of awareness is all that stands between a recreational diver and a FFM.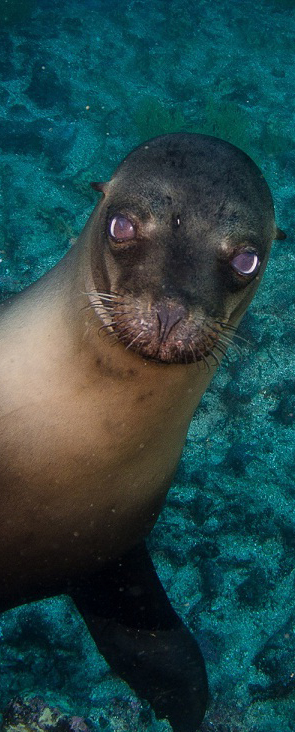 Dive of the Month - Dec 12th
Santa Cruz Island is the largest and most topographically diverse of the eight Channel Islands. Santa Cruz Island is approximately 24 miles in length and encompasses 77 miles of pristine coastline, including two mountain ranges, a pastoral central valley, ten plant communities, and numerous endemic plants and animals. Santa Cruz is divided up into the West End and the East End.
The West End of Santa Cruz Island is owned by the Nature Conservancy , a nonprofit international membership organization that preserves the plants, animals, and natural communities that represent the diversity of life on our Earth by protecting the lands and waters they need to survive. The East End of Santa Cruz Island is owned by the National Park Service. Both parts of the island are available for day trips with certain limitations.
Out of the 80 species of Whales and Dolphins in the world today, 28 species Have been documented in the Santa Barbara Channel and Southern California Bight. Seventeen species are seen on a regular basis over the course of a year.
To the east lies Santa Cruz Island, which offers a bit milder diving conditions. Unknown to many, this island is home to a very extensive system of underwater Caves and caverns. Diablo Anchorage offers one such example at the Diablo Point Cave, which is a good beginning penetration, cave dive and is ideal for Introductory cavern diving classes.
GEAR: Free rentals
LEVEL: Beginners to Advanced
Buy Tickets Here
Blue Water Whale Adventure
Giant Pacific Manta Rays, humpback whales, lots and lots of sharks, dolphins, turtles, tuna and large schools of fish. This is why the Socorro Islands are known as the Mexican Galapagos!
This all inclusive price includes 8 nights accommodation, all dives, all your meals AND free local beer and wine. The ship departs from Cabo San Lucas and is only a short flight from Los Angeles. If you want to see the BIG stuff, this is the most economical trip to do that.
Join Eco Dive Center on the newly retrofitted Quino El Guardian. Once a research vessel, it is now a full service dive liveaboard with 4 comfortable quad cabins and a twin cabin, 4 community bathrooms, supersized dive deck with 2 camera tables and ample space for gear storage.
March Trip Details
Views: 2243
Posting: 10-07-2015